Portable Micromotors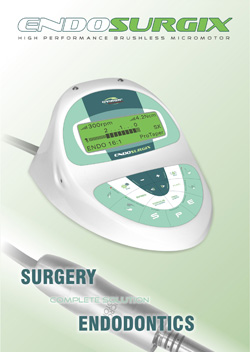 EndoSurgix is intelligent all-in-one micromotor designed to operate in three general modes simply by attaching corresponding handpiece. This high performance portable system guarantees efficiency and excellent dental treatment.
Brushless electric motor with light and wide speed range navigated by microprocessor control unit is excellent for fast and accurate preparation. High power makes it perfect for surgery and implantology. Integrated last generation apex locator and intelligent torque control ensure precise and time saving endodontic operation as well as improved comfort and patient safety.
High capacity internal Li-ion accumulator assures long operating time after mains power cut off. User-friendly interface eliminates sophisticated menus and all functions are triggered by one button push only. Graphic visualization on backlight LCD and melodious sounds facilitate monitoring motor status.
PREPARATION
Flexible speed control for variety of handpiece gear ratios
Smooth speed regulation proportional to foot control pressure
SURGERY
High output power
Torque up to 70Ncm (depending on handpiece)
Peristaltic pump with 5 flow control levels
Power backup time 30min (at 50% power load)
20 user-defined programs
ENDODONTICS
Integrated DSP (Digital Signal Processing) apex locator
Accurate apex aquisition not affected of blood or other liquids
5 Auxiliary functions:

Auto Reverse / Auto Stop
Auto Apical Slow Down
Auto Apical Reverse
Auto Rotate
3 Level Torque Control - Beep, Slow down, Stop / Reverse

Precise torque setting up to 7Ncm in step of 0.2Ncm
Automatic torque calibration
Time saving internal endo-file library
7 user-defined programs
DIAGNOSTIC and THERAPY
Pulp Vitality Scanner
Ionophoresys Therapy
Corrosion Potential Meter
Download full product specifications (PDF)